Raquel Peñuelas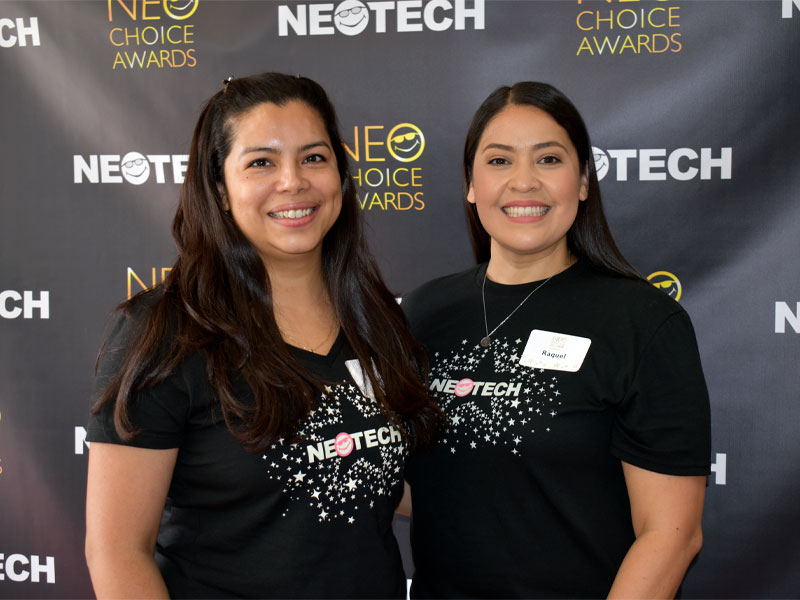 Making Sure International Sales Runs Smoothly
Raquel and her team support international sales and coordinate shipments from the home office.
Raquel (above right with team member, Karen) joined Neotech 2021 to fill the newly-created role of Sales Project Associate. The role was so new, it didn't exist until we saw her resume.
"I read Raquel's resume and knew that I wanted her to be a part of our team," Judy McCrary, Vice President, said. "She offered a lot of business experience and we wanted to take advantage. We created a position for her."
Raquel started in the Sales Department. First, learning how to process domestic sales and then international where she became much more involved. Her potential was evident from the start and she quickly rose to the position of International Sales Manager.
Before coming to Neotech, Raquel spent over five years working as the Director of Operations for a cosmetics company. She got to be involved in every aspect of the business. From conceptualizing to market placement for a wide range of cosmetic products. During her time there, she assisted in launching the brand in Sephora locations in the US and Canada!
Here at Neotech, Raquel's department helps to process international orders and sample requests. They work closely with our international sales representatives to maintain quality relationships with our distributor partners.
"I enjoy the family work environment," Raquel said about working at Neotech. "And knowing that every day we are making a difference around the world. It is amazing working in international sales where I get to process orders for countries everywhere! It's extremely fulfilling."
Domestic Bliss
Away from Neotech, Raquels has spent the last 15+ years as a freelance makeup artist. She has been very lucky to be involved in many memorable milestones for so many of her friends, family, and clients. Weddings, anniversaries, birthdays, baby showers, to name a few. She is also a Dodgers fan and enjoys soccer. LAFC and the Mexican Soccer League.
"My family means everything to me!" Raquel said. She has two brothers, one stepbrother and two stepsisters. (Including our Production Manager, Netta Garcia.) "We are all very close and spend a lot of time together. Most weekends, we spend watching my niece and nephews play sports. We do family dinners as much as we can, and we love to vacation together."
Raquel and her husband have a young daughter, Abigail. Her step-daughter, Kaylie, also lives with them part-time. Along with their Miniature Schnauzers, Rex and Sofie.