Neotech Adds to Product Line-up
Two New Catalog Items
Neotech is excited to announce the addition of two products to its line-up!
OEK
Back by popular demand: the Ocular Exam Kit Disposable Speculum and Depressor!
"After numerous requests by clinicians for a disposable alternative, we made the decision to bring back this innovative and unique product," said Executive Director of Sales & Marketing, Judy McCrary.
The Ocular Exam Kit was conceived by Dr. David Sami, Pediatric Ophthalmologist. The specula and depressor were developed for single use per eye. This helps to reduce the risk of cross contamination and eliminate the need to re-sterilize.
"One of the many benefits of the Neotech Ocular Exam Kit is that due to its disposability, it does not incur the normal re-sterilization costs that standard exam tools do," McCrary said.
The Ocular Exam Kit is disposable, sterile, and ready to use. Its unique speculum is designed to lock in place with eyelid pressure, allow unrestricted view, and open and close with ease. The speculum is available in two sizes—Neonatal and Standard. The two-sided depressor features an innovative texture intended to gently grip the conjunctiva.
We're proud to re-introduce the Ocular Exam Kit to our product line-up.
NeoHug®
Next, Neotech has extended the NeoHug line with the addition of the NeoHug with C-clip.
"We had increased interest from other departments. Departments that couldn't adhere the suction cup of the original NeoHug. Our incredible engineering team at Zewski Corp got to work creating this new attachment for the NeoHug," said Sara Dimmitt, Manager of Business Development.
The new C-clip attaches to most IV poles, snaps on and off, and features a ribbed design to minimize slipping.
"The C-clip is great for pediatrics and mobile patients to hold tubing or needed supplies," Dimmitt said.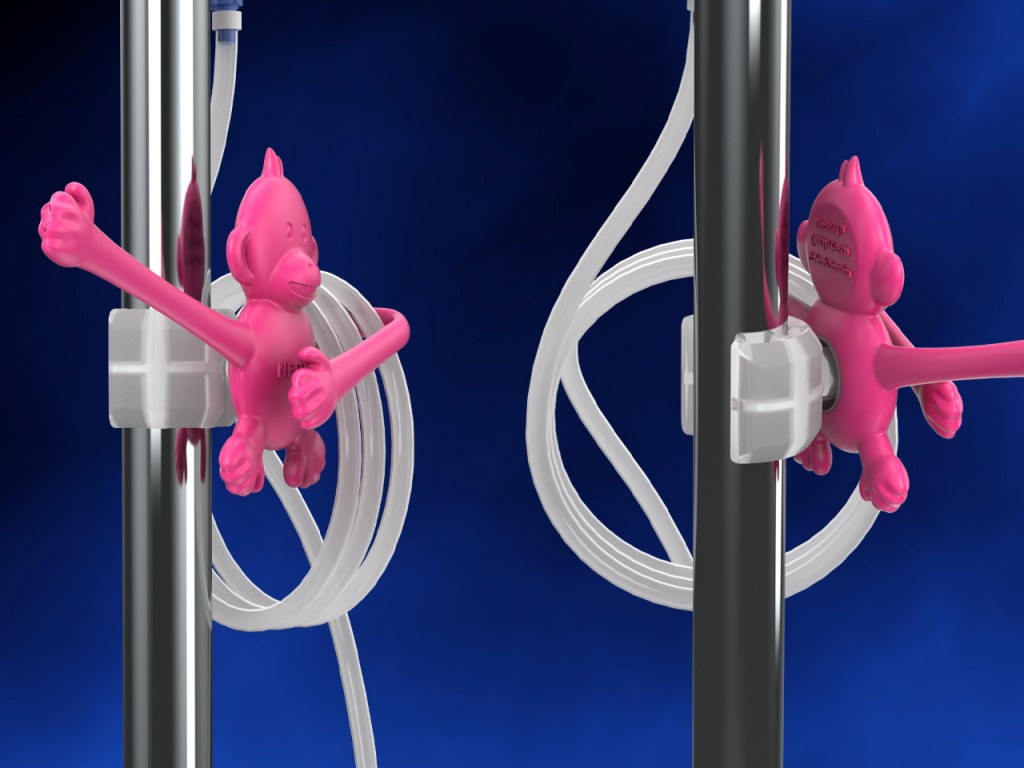 NeoHug is also available with a large suction cup that attaches to most smooth, flat surfaces. It offers a strong hold that withstands heat and humidity, and features a tab for easy removal. Like the C-clip, the suction cup allows for repeated repositioning with no adhesive.
The playful chimp design adds some color to your unit, five bright colors in fact! The bendable arms are designed to hold a variety of lightweight items, making it ideal for holding pacifiers, suctioning tips, tape, tubing, and more!
Check back soon for more exciting additions to the Neotech product line-up!