Celebrating 35 Years of Making a Difference!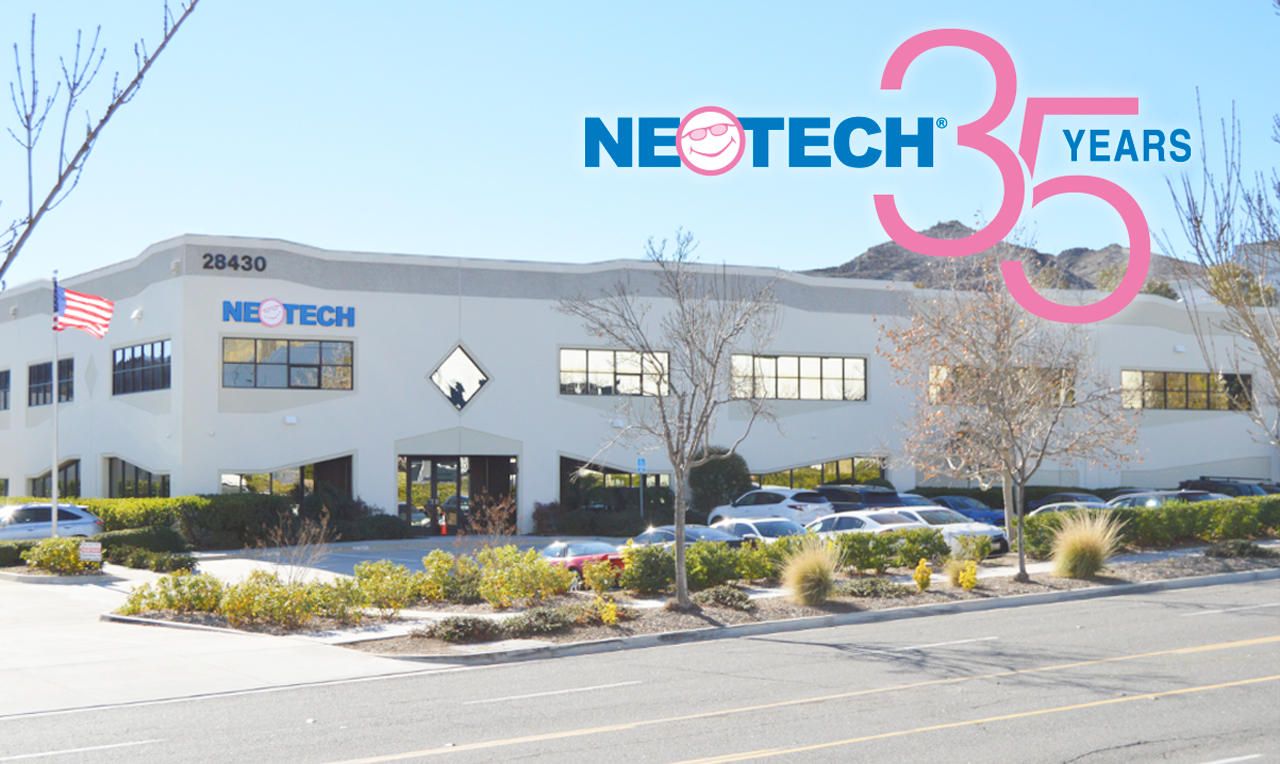 Making a Difference with Simple, Innovative Products
Anyone who's knows Neotech knows we love reasons to celebrate. And 35 years seems like a pretty good reason.
Our dedicated team members have been Making a Difference for 35 years! That's 35 years of developing and manufacturing innovative medical devices. Thirty-five years of helping babies, children, and their caregivers. Thirty-five years of distributing millions of products all over the world. Not to mention 35 years of celebrations.
"I think I am most proud of the impact we've made as a company over the last 35 years," said Craig McCrary, Neotech President. "Impact to employees, impact to clinicians, and impact to patients and parents. We've done things that have made a positive difference in many lives around the globe."
Craig, who has been with Neotech for over 30 years, credits company success to simple, unique products that are clinician-driven and fill a need.
"Made in the U.S.A. has truly set us apart," Craig adds. "Especially this past year (2021), when so many companies have experienced supply chain issues. Our products are in stock and ready to ship."
Winning Team
Our employees are the heartbeat of Neotech. The team has grown quite a bit in the last 35 years and their contributions to making a difference are immeasurable. Over 35 years, many faces have come and gone, but we've been fortunate to have established a culture of employee longevity. Several team members have been here for more than 10 years.
"When I started at Neotech in November 2007, there were only 16 employees; now we have over 60," said Nick Abrahms, Product Assembler. Nick has witnessed lots of changes and improvements. "Back in the day, there wasn't a video jet [printer]; we had to label everything by hand. There were no auto-baggers."
"Being able to see the growth at Neotech has been very exciting and rewarding," said Sara Dimmett, Manager of Product Development. "Every day is different. There are new challenges that come up. A shift in whatever you're doing. It makes each day different and exciting."
"A lot has changed here at Neotech. Faces. The processes. The systems," said Laken Tambunting, Warehouse Supervisor. Laken started as a purchasing agent and worked her way up through a few different roles before taking on her current position. "It's a great company to work for. Lots of relationships get built here. Most importantly, we're here for the babies; making a difference."
"It's been an amazing journey to be a part of," said Ernie Cavazos, Marketing Manager. "To see the team grow and watch individuals advance within the company. To see the product line expand and evolve. It's incredibly rewarding when you see pictures of our products in use and hear from clinicians about the difference they make."
History in the Making
In April 1987, Neotech founders Tom Thornbury, Paul Choksi, and Dr. Arnold Heyman, changed the name of the company from Hospital Concepts, Inc. to Neotech Products, Inc. Today, Dr. Heyman remains a principal owner, along with his son, T.J. Heyman.
We're proud to be an essential brand in hospitals worldwide. Our unique line of skin friendly products are designed to benefit patients and clinicians alike. As a result, we've become a proven leader in the development of neonatal, pediatric, and respiratory products. Products such as the RAM Cannula®, Little Sucker® suction tips, NeoShades® Phototherapy Eye Shields, NeoBar® ET Tube Holder, and many more.
Early on, we made our mark as a neonatal company with our NICU-centric products. But our reach now extends beyond the NICU into pediatrics, children's oncology, home healthcare, and more. We even offer a few products for adults, like EZCare® trach ties and the NeoSucker® Curved XL suction tip.
Our products can be found in hospitals, clinics, and homes around the world. We continue to expand our international presence by developing simple solutions to medical needs. Neotech is also a proud Certified B Corporation®. Becoming a B Corp is one of many milestones over the course of our history. We plan to hit many more. After all, we didn't come this far to only come this far.
Indeed, 35 years of Making a Difference feels like a great reason to celebrate. So, bring on the cake!